The Euro fell to fresh one-year lows against the Dollar as key support levels gave way Wednesday. Weak business confidence data from Germany added fuel to the latest drop in the Eurozone currency and now focus turns to Friday's U.S. Gross Domestic Product report as the next potential catalyst for the greenback.
Need capital to put behind your forex trades? Get up to $5,000 in live trading capital.
Keep your first $5,000 in profits and 80% thereafter.



---
Traders were watching 1.1180 for possible support as EUR/USD slumped this week. The pair managed a solid bounce off that level in early March and then again in April. However, weak European manufacturing surveys on the 18th thwarted the April rebound effort and, after a few days of choppy trading, EUR/USD is back under pressure.
After starting the week on a steady note, the Euro slipped modestly Tuesday before a report showed Germany's business sentiment falling in April, which defied expectations for modest improvement.
Meanwhile, in the U.S., the only economic stat of significance in recent days was a report on New Home Sales. It showed a surprising 4.5 percent increase for March and seemed to reinforce the idea that the U.S. economy is outperforming its European rival.
What to Watch in EUR/USD
The latest move pushed EUR/USD to 1.1140 — its lowest levels since June 2017. The daily chart (below) shows the yearlong downtrend and steep fall Wednesday, a move that violated the 1.1180 support level. Since previous support sometimes turns to resistance, 1.118 is also a level to watch on a reversal to the upside. Of course, the first encouraging sign would be a move back above 1.1250.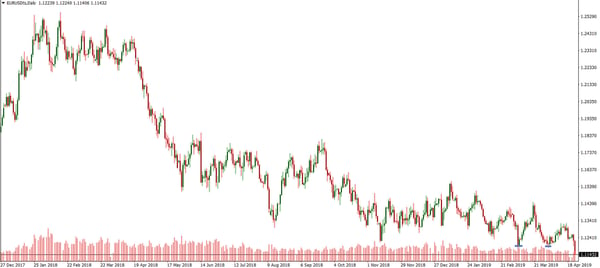 EUR/USD Daily Chart: Wednesday's drop below 1.118 confirms a longer-term downtrend
Friday's GDP report is a potential catalyst for the Dollar in the short term. Traders will be watching to see how the economy fared in the first three months of the year and if the U.S. remains in an oasis of strength amid an increasingly murky global economic outlook. Economists expect the report to show GDP at a 2.1 percent annual rate in Q1.
But Wait – There's More
It doesn't end there. A flood of data will be reported next week, including key jobs data Friday. Here's what lies ahead:
4/25: Durable Goods, Weekly Jobless Claims
4/26: GDP!
4/29: Personal Income / Spending
4/30: Chicago PMI, Consumer Confidence
5/1: Construction, Manufacturing, FOMC Rate Decision
5/2: Factory Orders, Weekly Jobless Claims
5/3: JOBS, JOBS, JOBS
Reports on Eurozone manufacturing, GDP, and business confidence are due early next week as well. So there are certainly enough catalysts on the economic calendar in the coming days — data that will test the Dollar's recent rally, and perhaps give the Euro a long-awaited lift from one-year lows.