EUR/USD was in a strong uptrend throughout all of 2017, rising more than 14%. The Euro, in general, was the best performing major currency of 2017. What made the move so impressive was that it was somewhat unexpected. As discussed, the U.S. Dollar came into the year on a strong note. However, fears of political instability subsided, Eurozone growth surged, and the European Central Bank (ECB) was forced to begin withdrawing its stimulus.
Those three factors turned the market around.
As the chart below shows, the first major breakout in EUR/USD came mid-April on the weekend of the French presidential elections (April 23) when it became clear that Emmanuel Macron would defeat Marine Le Pen. The market feared Le Pen would ride in on a global wave of populism and might pull an upset – potentially leading the French to exit the EU. That did not happen, and the EUR/USD surged.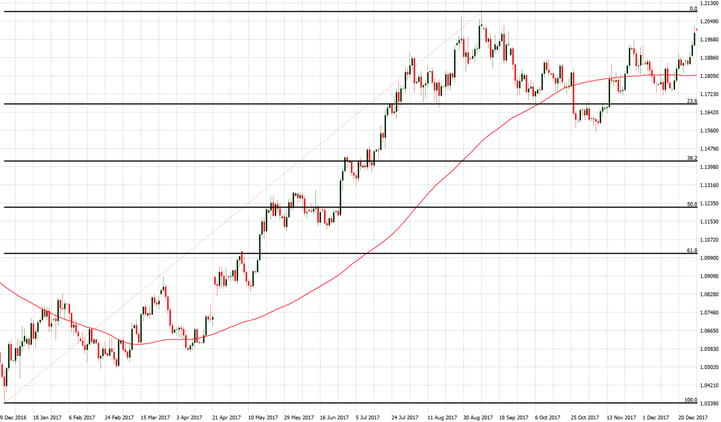 A 2017 EUR/USD chart as seen on TopstepFX MetaTrader 4. It includes a 100-day moving average (red line) and a Fibonacci retracement drawn from the January 3 low to the September 8 high.
That spike was followed by a series of economic data points that showed strong European growth, ultimately leading to inflation concerns. In October, the ECB announced it would halve its monthly asset purchases from €60 billion to €30 billion. Though that initially caused EUR/USD weakness, the currency found support below the 1.16 handle.
Europe's strong data held up through year end, capped by German inflation figures on December 29. That data showed inflation at its highest level in more than five years, prompting the head of the ECB's bond purchase program, Benoit Coeure, to speculate that the ECB's stimulus program would not be extended past September 2018.
Mounting expectations for tighter monetary conditions gave further lift to the Euro, helping it make a late-year run above 1.20.
But into 2018, markets will focus on how those expectations match with reality. Currency traders have begun to price in the end of the ECB's program — just as it had priced in U.S. tax cuts and the Federal Reserve rate hikes in 2017. The simple fact that the ECB's quantitative easing is ending isn't enough to support EUR/USD all year.
Further, if it looks like the ECB won't withdrawal its stimulus as quickly as anticipated, the Euro's gains could reverse in their tracks. If it looks like the Federal Reserve will accelerate its interest rate hikes, that would be bullish for the U.S. Dollar.
---
Want our full analysis of the forex markets, including in depth look at six major currency pairs, download TopstepFX's FREE 2018 Guide to the Forex Markets below.