Here come earnings. Several large companies report over the next few days and then the floodgate on second quarter results opens wide next week. The S&P has been in rally mode heading into the reporting season and now the question is: Can corporate America deliver numbers that justify the lofty increase in share prices?
New Highs All Around
Dow 27,000. S&P north of 3,000. New highs for the NASDAQ. All stock indexes set new highs last week and, while the focus lately has been on macro developments on the trade and interest rate fronts, focus now shifts to earnings.
---
---
A company's Earnings Per Share (EPS) number is the one that typically gets the most attention when the results roll in. EPS tells shareholders how the company is performing – is it making or losing money? In addition, companies that grow earnings in respectable fashion typically trade at higher prices, or higher price-to-earnings [P/E] ratios. Slow growth companies usually have lower P/E ratios.
Given the S&P 500's 10% advance since May (Figure 1), the 'P' part of the equation seems to be growing faster than the weird Shadow Monster from Stranger Things – it shakes off bad headlines and expands each day without any regard for market bears. Now the question is: Can the 'E' part of the P/E formula increase sufficiently to justify the growth in share prices?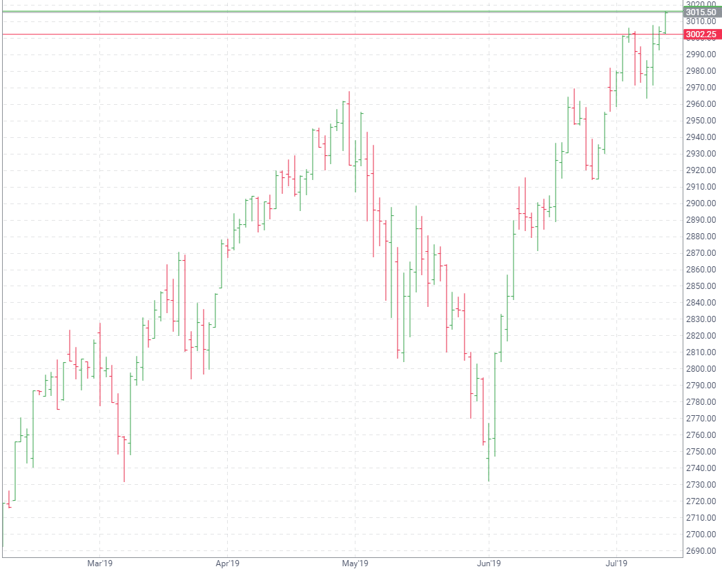 Figure 1: ES Futures (June) Daily Chart
Q2 Earnings Outlook
According to FactSet, analysts expect companies of the S&P 500 to post a 3% decline in year-over-year earnings for the second quarter. That's bad news. However, according to FactSet:
"Based on the average change in earnings growth due to companies reporting positive earnings surprises during each earnings season, it is likely the index will report (year-over-year) growth in earnings for Q2."
Overall, after a dismal -.3% decline in Q1 earnings, the S&P could deliver EPS growth of around 1%, according to the analysts. Whether that's enough to keep the rally alive, is hard to predict (macroeconomic factors like trade negotiations, economic data, and the Fed's rate moves are driving market action as well), but some of the early results could be telling. In that respect, here are some names to watch this week:
7/16: JP Morgan, Goldman Sachs, Wells Fargo, J&J
7/17: Alcoa, Bank of America, Abbott, US Bank, eBay, Netflix
7/18: Microsoft, Philip Morris, Morgan Stanley
7/19: American Express
In sum, if the S&P 500's ascent to new highs is to be sustained, it seems that companies must deliver second quarter results that don't deviate too far from analyst estimates. Flat or negative growth probably won't cut it! Additionally, any future guidance will shape expectations for the second half of the year and determine if there's enough 'E' to justify more 'P' in the P/E formula. In other words, the sustainability of the S&P 500's move will probably depend on, not just Q2 results, but what companies say about the outlook for the third and fourth quarters as well.