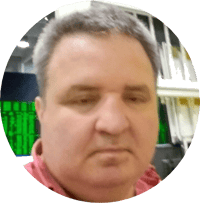 Trading Lessons from Peter's Success:

Two to three contracts is plenty of size: Peter kept his contract size to two or three at a time, despite the fact that our scaling plan in the 150K Funded Trader Preparation™ would allow him to trade up to 15 contracts at a time. With two or three contracts, Peter was able to rack up an average gain of more than $500 per day he traded. (Learn more here about setting realistic trading expectations.)

There are a wealth of market opportunities: Peter traded an average of six times a day - proving that there are plenty of opportunities throughout the course of a trading session. Many traders hold onto losing positions hoping that they will work out, instead of cutting losses and finding a new opportunity.

Don't let losing trades define you: Peter had a losing trade on 20 of his 22 days in Funded Trader Preparation. However, he kept these losses small - to an average of $93.93 versus gains on profitable trades of $173.26. Peter realized that you will have losing trades and that you can't let them define you. As a result, he was profitable on nearly 83% of trading days.
---
Peter became TopstepTrader's latest funded trader after passing the 150K Trading Combine® and Funded Trader Preparation. He passed Funded Trader Preparation over the course of 22 trading days. Though 83% of his trading days were winning days, he did experience a number of challenges - as all traders do.

On his fourth day trading, he nearly lost his account - losing $2,912.49 in one day. This not only erased a three-day winning streak that helped him rack up profits of $2,085.78, but also put him $826.71 underwater. From then on, the key to Peter's success was not letting any single day or challenge derail him from his goal of becoming a funded trader.

In general, Peter earned his Funded Account through consistent gains that ranged between $400 and $800 per day and by not allowing himself to take another large loss. It was discipline learned the hard way, but discipline nonetheless.

Awesome job Peter!