The Dollar is giving back some ground against the Euro and the British Pound after several weeks of gains. The trend reversal comes as global Central Banks adopt a more dovish tilt, while Brexit uncertainty clouds the U.K., and as President Trump steps into the currency debate.
"Mario Draghi just announced more stimulus could come, which immediately dropped the Euro against the Dollar, making it unfairly easier for them to compete against the USA. They have been getting away with this for years, along with China and others,'' Trump tweeted Tuesday.
He then added, "German DAX way up due to stimulus remarks from Mario Draghi. Very unfair to the United States!''
Dollar Draws Weakness as Euro Battles Back
Trump's harsh commentary comes after European Central Bank president Draghi said Tuesday that the ECB could cut interest rates again and conduct more asset purchases to help revive a deteriorating Eurozone economy. Bond yields fell, with German and French 10-year yields falling into negative territory and new record lows.
Yet, as we can see from Figure 1, EUR/USD ticked higher Tuesday and saw notable strength Wednesday – a sign, perhaps, that participants expect the U.S. Federal Reserve (which met Wednesday afternoon) to follow suit with aggressive rate cuts as well.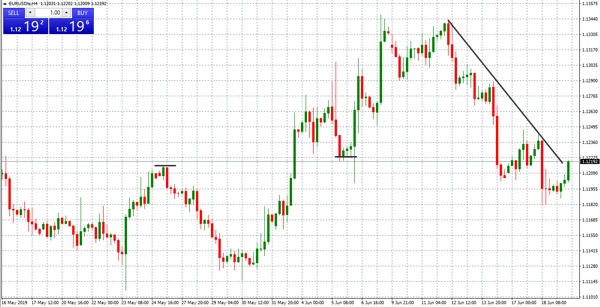 Figure 1: EUR/USD 4-Hour Chart
Sterling Strength as Voting Begins
Meanwhile, sterling is moving sharply higher despite ongoing uncertainty about Britain's plans to leave the E.U. After Theresa May's resignation last month, the battle to name her replacement is in full swing. The results of this week's voting will be announced on Thursday, June 20. Then a month-long contest will be held to determine the next Prime Minister by July 22. The results have enormous implications for the late-October Brexit deadline: whether the U.K. leaves the E.U. with or without a deal.
Despite the uncertainty, the Pound saw modest gains against the Dollar Tuesday and then a notable spike Wednesday (Figure 2). Sterling's strength comes ahead of a Bank of England meeting Thursday and after policymakers recently said that interest rates might need to rise sooner than markets expect. However, few market participants expect the BOE to move on rates until well into 2020.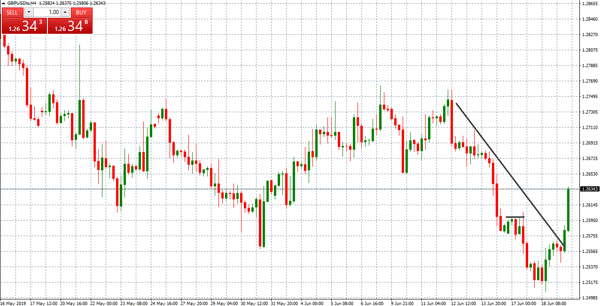 Figure 2: GBP/USD 4-Hour Chart
With central banks in focus this week and expectations for looser policy across the E.U. and the U.S., sterling could indeed be the beneficiary in the short term, with GBP/USD easily taking out previous resistance around the 1.26 level Wednesday. After losing 5% in the past month, players will likely trim short positions further if the rebound effort continues and add fuel to the advance.
---
---
Meanwhile, EUR/USD is attempting to break its downtrend, but turned away from the 1.22 level Wednesday. Short-term traders will also be watching the 1.12 level for signs of support on the downside and 1.124 as the key resistance level on the upside.