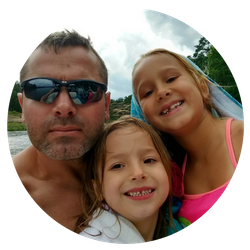 Imagine this: you earn a Funded Account™, and in your first five trading days, you lose $3,127.66. You have a losing percentage of 80% and you are now just $1,372.34 to your Trailing Maximum Drawdown.
What do you do? Do you stick to your strategy or start taking long shots to dig yourself out of the hole?
That's the situation that Jon F. in Hot Springs, Arkansas found himself in. In fact, at his lowest point, Jon got just $620.88 away from his maximum loss before turning his account around.
He was able to stay in the game, and dig himself out of that hole.
On April 4, more than 25 days into his Funded Account, he gained $5,236.80, taking his equity balance to a new high. Two weeks later, he made $4,391.56 on April 24. Now, his account is sitting pretty. Here's how he did it.
---
Think you have what it takes to join Jon in a Funded Account? Time to get started.
---
1. Realize that it will take time.
Jon worked very hard to earn his Funded Account, and it certainly must have stung to get underwater early in the account. But while that was a mistake, a larger mistake would have been trying to make it back in one day.
He didn't have a fatalist approach to his trading. Losing his Funded Account was not a predetermined outcome. Instead, he dug deeper, showed resiliency and was able to build on his trading.
Funded Trader Risk Manager Mick Ieronimo said the best way to do this is to "take one trade at a time. Only look for great trade opportunities with low risk, instead of focusing on the dollar amount."
In other words, going fast is slow — and going slow is fast.
2. Keep your losses even tighter.
A lot of people think that to make $5,236.80 in a day, you have to risk $3,000 or $4,000. Not true. When you are down near your Trailing Maximum Drawdown, whether in a Funded Account or the Trading Combine®, you have to get even more disciplined.
Choose your trades very carefully and make sure that you don't give them more room than they need. In the days after Jon's early losses, he placed an average of one to three trades. If the first trades did well, he would pyramid up. That led him to gain $1,344.20 on his ninth trading day across seven trades.
3. Stay disciplined even when things start to go right.
It's easy to get a big head when you start to turn that streak around. What you don't want to do is completely reverse your progress.
So, part of that is keeping your size consistent. Even though Jon could trade three contracts, he stuck with just two at a time. Think about it this way: if you know that 50-60% of your trades are going to be winners, but you drastically scale up after you've had success, then the odds are that one of your larger trades is going to go haywire.
Maintaining consistent size is critical to continuing to build on that success.
4. Keep an eye on the most important metric: your win/loss ratio.
Looking at Jon's stats — his key is enabling the ability to have huge gains, while cutting his losses off much sooner. That's why with just 45% winning days, he's able to be profitable in his trading account.
Jon's average winning day is $1,331.46. That is no doubt helped by the days he gained more than $5,000 and more than $4,000... but the sheer number of these huge winning days that he is putting up is amazing.
In April, he had three days where he made more than $10,872.06. If he treads water the rest of the days, those huge gains make up for a lot.
Conversely, his largest losing day in April was around $700. On six trading days, he lost between $650 and $700.
Just looking at the numbers, it would take him 15 days losing $700 to take all the profits that he made on three trading days. Incredible.
Great work Jon!
---
Want to earn your own funded trading account? Get started today!