Crude Oil failed to rebound following inventory data this week and has dropped nearly 10%, or $6 per barrel, during the month of May. It's trying to hold a key technical support, but ongoing trade war concerns and a looming OPEC meeting might keep a lid on short-term rally attempts.
Crude Oil shed $1 Thursday afternoon when the latest weekly report from the Energy Information Administration was released. The data, which was released a day later than normal due to the Memorial Day holiday, was expected to show inventories declining by 1.4 million barrels in the week ended May 24. It showed a draw of 0.3 million barrels instead.
EIA numbers followed a report from the American Petroleum Institute Wednesday afternoon, which was also a day late due to the holiday. It showed Crude stockpiles decreasing by 5.3 million barrels in the week ended May 24, after a build of 2.4 million the week before.
While the API numbers provided Crude a modest lift, the gains were then erased in the wake of the EIA report. Figure 1 shows Crude Oil falling back toward last week's support area at $57.50 per barrel. It's now a far cry from its five-month highs of more than $66 per barrel in late April.
Next stop: Thursday's move seems to set up an inevitable test of a key technical support/resistance level from late 2018 and early 2019 in the $56.50 – $57.00 per barrel range.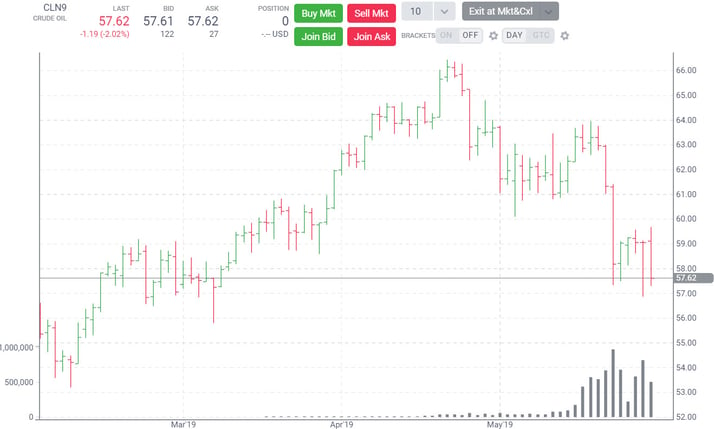 Figure 1: CL Futures (June) Daily Chart
Trade War Volatility
The bigger worry weighing on Crude Oil is the ongoing trade war. The concern is that U.S. and Chinese officials are still miles away from any sort of agreement; economic growth could suffer, reducing the demand for Crude Oil and fueling the recent move away from riskier assets like stocks to more conservative instruments such as government bonds.
Supply constraints from OPEC are lending Crude Oil some support, however. The cuts were initiated earlier this year, and now the focus turns to OPEC's next meeting on June 25 – 26. There has been some chatter that the meeting will be pushed back to July, but no confirmation yet on the change of dates. The existing agreement to cut outputs expires at the end of June.
---
---
Until then, the action in Crude Oil will likely be held hostage by trade war headlines. On that front, the outlook doesn't seem favorable given that China is now threatening to hold back the exports of key rare earth materials as a retaliatory strike against U.S. tariffs. The materials are key components to the technology sector: cell phones, computers, batteries and many other products.
In short, in the absence of a trade deal, Crude Oil might have limited upside in the near term; key levels to watch on the downside are $57 and then $56.50 per barrel. On the other hand, should trade talks take a turn for the better, there's plenty of room to the upside – with not much standing in the way of a move to $59 and then beyond $60 per barrel.