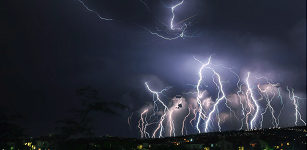 This will be known as the week that the volatility complex blew up. Two major short volatility ETFs literally imploded. XIV — Credit Suisse's short-term short volatility ETF — closed on Monday at $99 per share. As the VIX spiked after hours, the product lost 90% of its value to trade at less than $10 at the open on Tuesday.
The spike in volatility led to a sell off in equities and the emergence of extreme moves in futures contracts.
Here's what you need to know.
---
Are you learning how to be profitable in these markets? Want real capital to trade?
---
This may be a new status quo for trading.
A new trading regime appears to be here — at least for the next month. The high to low range in Dow Jones Industrial Average futures ($YMH8) was more than 1,000 points on four of five days last week (February 5 - 9). The one outlier, Wednesday, still saw a range of 736 points. That's a move of $3,680 on 1 lot.
Before this week, a "normal" day would see a range of 200 to 300 points. Now, we're seeing that on 5-minute bars. Below is a 5-minute chart of $YM from Friday. Each of the red arrows represents moves of more than 150 points.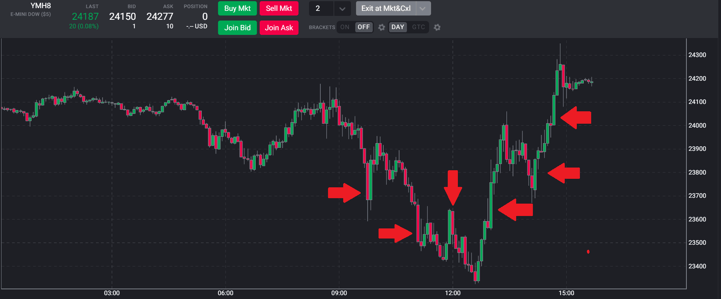 The point? There are actually a couple.
1. The market will present a lot of opportunities.
If you miss one trade, don't sweat it. Unlike the market of two weeks ago when you may only have one or two good trade setups a day, these markets are ripe with opportunities. That means that you will miss some, whether that's because the market moved too fast or you let fear of taking a trade creep in.
Don't beat yourself up. The only thing that is deadly in this market is taking too big of a loss. As long as you have buying power, you have the ability to get in on the next trend.
2. Your only protection is smaller size.
We can't say it enough — trading 1 or 2 lots is the absolute max that you should be pushing in these markets. That move from the low around 1 PM CT to the high at the close was 1,000 points. Again, that is a $5,000 move on a 1 lot. You can't look for 10 ticks on trades anymore. You have to look for that next explosive move and hope to capture part of that trend.
3. This market will fool you.
Our funded trader risk manager, Mick Ieronimo, always says that a day trader's job is to capitalize on the trend for the day. In these markets, there are four or five trends for the day. The market looked extremely weak when it was making new lows, just minutes before ripping to erase all of its losses.
One thing that will save you is recognizing that the market is going to fool you. You are going to get the most hurt when you start to think that the current trend is wrong and stay in a losing position. "The market just made new lows, the big selloff is here," you could've said Friday before getting a margin call.
4. Bias kills.
Don't marry your short-term trading with any long-term views on markets. Whether you believe that equity markets are starting a long-term selloff or that they are going to hit new highs in the coming weeks, you can't let that impact your day trading.
Trade what you see. If you think that the big selloff is here, you can still go long when those trades present themselves. Conversely, if you think that this is temporary, don't get so excited that you can't go short as easily as you can go long.
If you have any questions or feedback, please leave it in the comments.