The global economic effects of the Coronavirus outbreak in China have already begun to surface. The fallout goes much deeper than the death toll, which recently broke through 900, and digs into nearly every major industry in the country; including trade, entertainment and manufacturing.
Having the world's second largest economy, and ranking as the largest exporter of goods on the planet, even a minor slowdown in trade can have a significant effect on the global economy. This health scare has taken us far beyond a 'minor slow down' though. As of this writing nearly all trade and travel to the virus embattled country have ceased.
The World Health Organization (WHO) isn't hiding the fact that they can't give an accurate assessment of the number of casualties and confirmed infections, because they admittedly just don't know. Testing centers are overwhelmed with patients and reliable information is slow to get out. The actual numbers could be far worse than what is being reported.
The Effects So Far
China is one of the largest steel producers in the world, responsible for nearly half of global output, subsequently making them one of the largest importers of iron ore in the world. Trade restrictions have all but cut off the flow of iron ore to the country and slowed steel production down to a crawl.
Some of the largest global brands on the planet, including Apple, Starbucks and Disney, have suspended activity in portions of mainland China, and in some cases even evacuated employees.
Hotels, resorts, casinos, restaurants and theme parks are all taking a huge hit right now. We won't know until it's all over how big the actual financial ramifications are, but smaller companies are definitely bearing the brunt of the losses. It's possible the bigger brands won't get hurt too bad, but we really have no idea how long this is going to last.
Additional Concerns
The risk of inflation has also become a top priority to the global powerhouse. Hundreds of companies have started applying for federal loans in order to subsidize the losses suffered from the lack of consumer spending, and according to Reuters, it's more than likely China could see a drop below 5% in its first quarter GDP.
China is also one of the largest importers of crude oil. Lack of trade has created an increase in global supply and driven oil prices below $50 a barrel. While we are enjoying seeing a decrease in prices at the gas pump right now, it's only a matter of time before more major exporters are forced to cut production.
On top of all that, China could now be faced with sanctions, as the the DOJ unsealed an indictment charging four members of the Chinese People's Liberation Party for the Equifax data breach which affected more than 140 millions Americans. The hits just keep on coming…
---
---
How Is Any of This Actionable?
So, as traders, what does this mean for us? The U.S. stock market has an almost supernatural ability to take bad news and make good of it. Even with all these threats of a global economic slowdown, the S&P 500 futures are still less than 1% away from all-time highs. Though bullish sentiment has eased back a little, you can clearly see the CNN Fear and Greed Index is in the green, and has upgraded from neutral last week.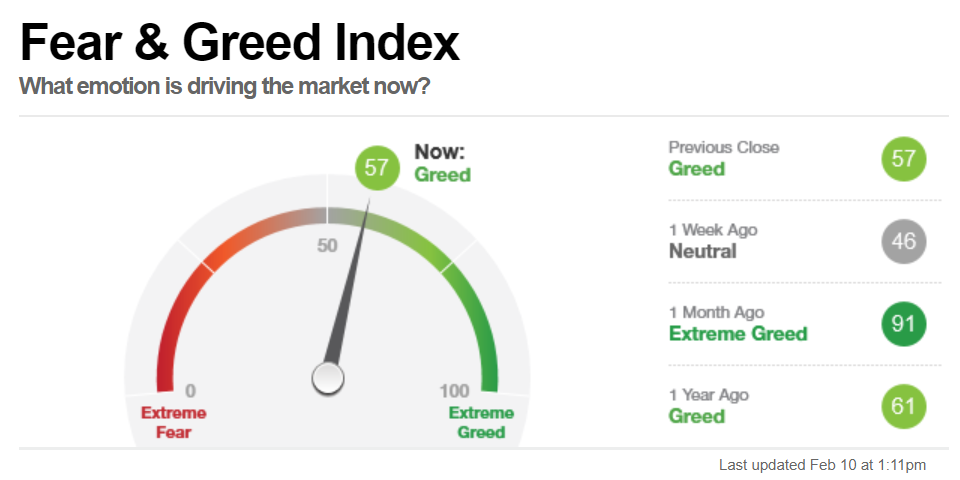 When it comes to crude oil, all eyes are on Russia right now. Production cuts have started, but so far, Russia has refused to play along. They have expressed interest in joining other producers to make production cuts, but claim that more time is needed to observe and study the market. According to Yahoo Finance, when Russia does decide to get on board and cut production, we can expect a significant short covering rally.
It's possible, though unlikely, individual stocks like Wynn and McDonalds could also face minor pullbacks, but I don't expect them to last too long. With big pharma companies in a race for a cure, it's biotech stocks that could really see the biggest boost in volatility.
Any way you slice it, it's looking like China has a long road to recovery ahead. Events like this, tragic as they are, typically provide huge investment opportunities. So get creative and trade well!