How the UK "Leave" Vote Affects Trading
The vote is in and the United Kingdom is exiting the European Union! This historic decision has already had significant impact on the financial markets, including:
Stock Indices plummeted overnight on Globex open

Investors and traders alike flew to safety causing Gold and Interest Rate Products to make new multi-year highs

British Pound took a 10% pounding early in the Globex sessions as polling prior to the vote suggested an exit from the EU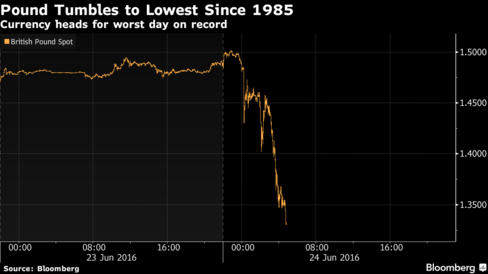 What does this mean for your trading?
Volatility leads to opportunity, and greater risk means greater reward

Opportunities to sniff out overvalued and undervalued products

Don't worry, you are not late to the party - not all factors are priced in yet!
This is a perfect example of how a major international event can directly cause volatility in the markets. As a result, trading can be fast and fun, but also potentially very risky, especially with the increased margins and position limits today.
If you are interested in taking part in the swings and testing your strategies on volatile markets, the Trading Combine® is the ideal environment to do so safely without risking your own capital.
Have questions about the Brexit? Enter our Squawk Radio Broadcast to discuss with the trading community.
---