The Failed Top Trade
Earlier this week I posted a blog article laying out guidelines and best practices for picking tops. As it turns out, this has been a textbook week to put them into practice…
Failed top trades have been a great scalp the last few days. The failed top trade consists of putting an offer in 2 ticks above the high with a 6 tick stop and a 12 tick profit target (for the e-mini S&P 500 futures).
This is the type of trade that should never be turned into a loser once it turns into a small winner. If it goes your way even a little, you should be prepared to scratch before it goes against you.
Here is an example of a Failed Top trade from Friday, January 17. You can see the e-mini S&P 500 futures printed an overnight high at 3328.75, then traded somewhat sideways for most of the day session. Towards the end of the day, the ES made a run to test that high, and breached it by 1.5 handles. Based on the rules above, you could have put an offer in at 3329.25 with a 6 tick stop and 12 tick profit target to end the day with a winning trade.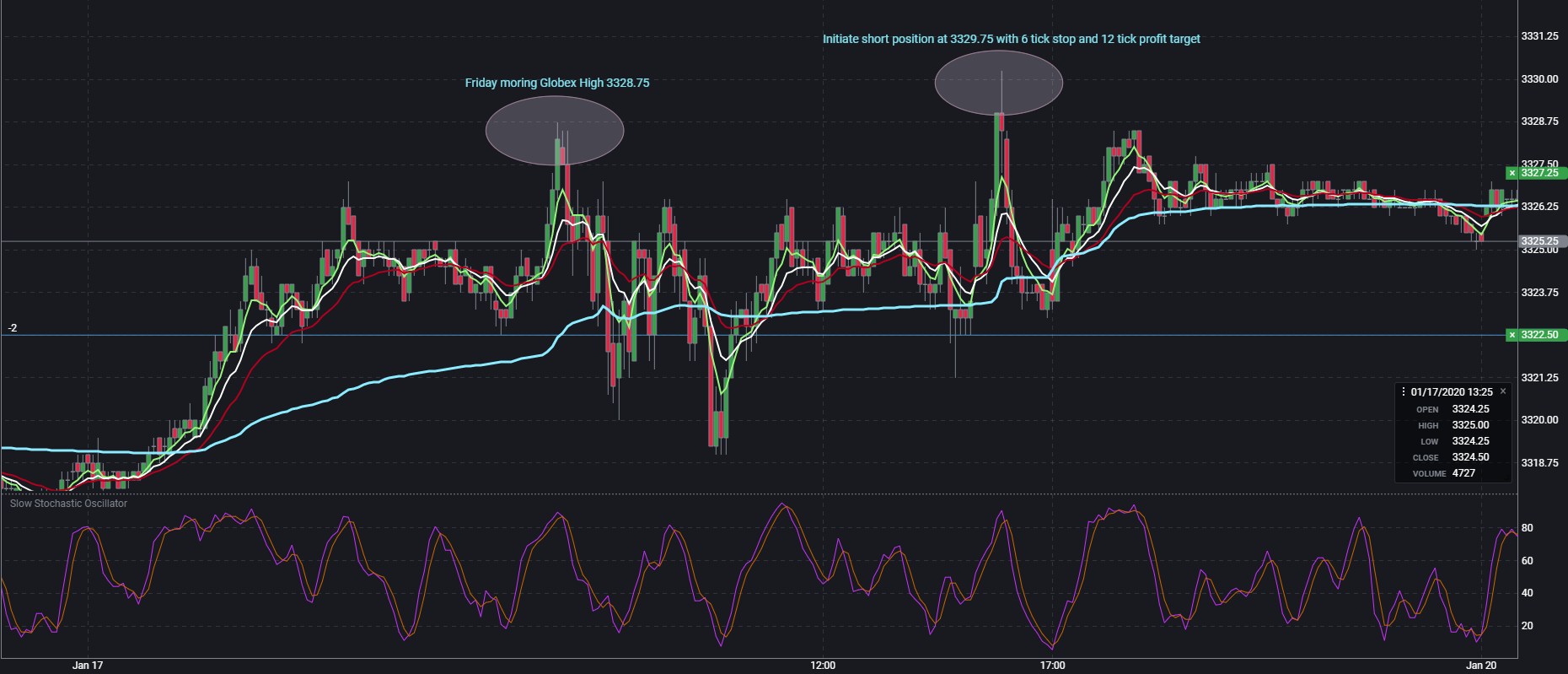 Pullbacks Recharge Rallies
If you keep up with the TopstepTrader morning forecast videos, then you probably got a good look at me, and know how I feel about current market conditions.
My call was that the stock market is stretched too thin. My thoughts are that current events have already been priced in, and the market is looking for a good excuse to blow out some weak longs and run the downside stops.
So far this has not happened. Everything good that was supposed to happen this week has happened. Bank stocks beat earnings estimates, and the Phase 1 China trade deal is signed. This is all wonderful news. In fact, it's such great news that you would expect everyone with a brokerage account to jump in and start buying stocks in bulk. We're not seeing that though.
Volume has not impressed me at all. This type of price action just doesn't feel strong to me. As I write this, I have watched the e-mini S&P 500 futures make a new high by a few ticks, then immediately drop 6-7 points. This has happened 4 times so far this morning (Wednesday, Jan 15). It reminds me of the original predator algos that launched in the early days of point-and-click trading. They're hunting stops. That's it. That's all they're doing. Once enough people are squeezed out of the market, the floodgates usually open up to a decent pullback.
All things being equal, I'm going to hold strong to my conviction that the S&P 500 is one bad headline away from wiping out a whole week's worth of gains.
I realize that the game is constantly evolving, and all the tricks that worked yesterday probably won't work today. However, basic market fundamentals are still relevant. When the tape is stretched to capacity, it needs to balance out to remain strong. Breaks are good for rallies (and vice versa), they offer fresh opportunity for new money to enter the market. We don't get the breaks we need anymore though.
---
---
What Would You Do?
The S&P 500 futures have printed a new high in 8 of the first 10 trading sessions of 2020. It's setting up to be another great year!
That being said, here's my question to all of you. I want you to leave an answer in the comments section below, and please be honest...
Would you rather buy or sell a new high?
One of the most basic trading principles out there is to "buy low and sell high," so most retail traders aren't even considering buying new highs. The professional traders are though. In fact, they're probably the ones you're selling to. It may sound unpleasant to some, but the pro's believe in buying high and selling higher!
Buying high and selling higher is not an old concept, it's just an unpopular one, so you really don't hear about it all that much. It's a riskier trade just for the mere fact that most traders love to sell new highs, especially when they're hovering around a technical level. You need deep pockets to make this work, but if it pays off, you can call it a day.
In a 'dog eat dog' world, small money is weak money, and weak money gets eaten up. That's why it pays so much to know what type environment you're trading in. Recognizing market conditions and adjusting your risk parameters around them can really save you a lot of money and headaches in the long run. For example; selling new highs in the middle of a trend day isn't the best idea, whereas selling a new high during a choppy range session will most likely net you a few bucks.
I want to hear your feedback on this for our next podcast, so again, please leave your comments below.