Sometimes it is easy for traders to forget the original purpose of futures contracts — and instead focus on them as a means to speculate and generate income. But the first standardized futures contracts evolved as a means by which hedgers could lock in prices.
That's why the first U.S. futures contract was Corn ($ZC), followed shortly by Wheat ($ZW) and Soybeans ($ZS).
If you haven't ever considered the grains markets as a place for trading opportunities, now is a good time to rethink that. While summer is traditionally slower for other markets (though we think that may not be the case this year), it is a time when grains markets thrive. Here are three reasons why.
This is the first article in a 3-part series on the grains markets.
1. Grains are Liquid... and They Move.
The current front-month contracts — all July (contract month code: N) — are trading well in excess of 100,000 contracts per day. On June 8, July Corn traded 177,000+ contracts, while September and December each had ~80,000 contracts. July Soybeans traded 132,000, with more than 100,000 contracts traded in November. And July Wheat traded 128,000 contracts with 100,000 more contracts traded across September and December, combined.
Just as a comparison, August Gold ($GC) traded 218,000 contracts, with very little volume in other months.
And, importantly for intraday traders, there is volatility. In Friday, June 8th's range, Wheat moved $1,012.50 per contract, while Soybeans moved $687.50 and Corn moved $275. That is to say that there is opportunity for everyone — those accustomed to larger and smaller moves.
2. Grains Trend.
Grains markets are one of the few markets where all participants — hedgers and speculators — come together. Unlike financial futures like equities or Treasury futures, there are natural buyers (consumers) and sellers (producers) in the grains markets. That provides room for supply and demand economics play out.
And during planting and harvest time (summer to fall), those fundamentals really play out. And that is good for traders looking to understand the market's story.
Here are the recent charts for Corn and Soybeans, both of which are in the midst of a 9-day sell-off.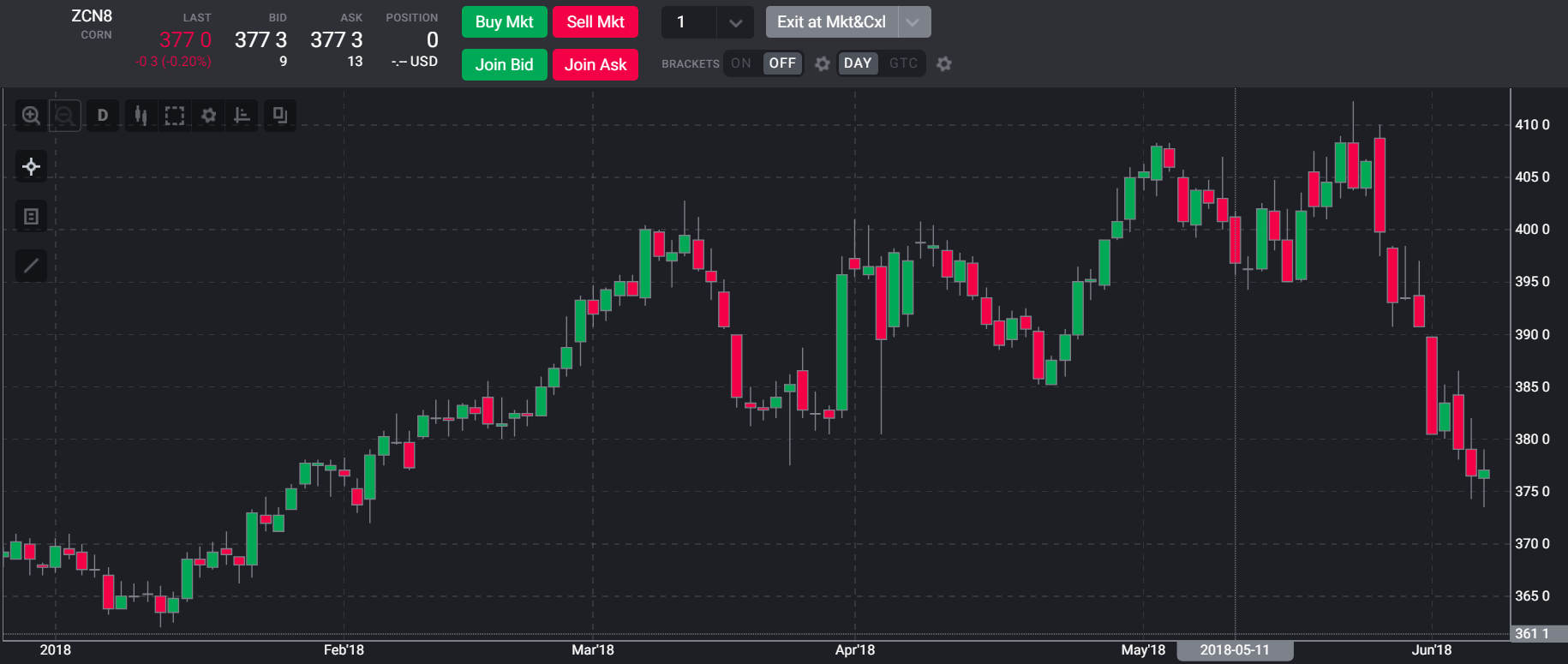 Above: Daily chart of July Corn futures as seen on commission-free TSTrader®.
Below: Daily chart of July Soybean futures.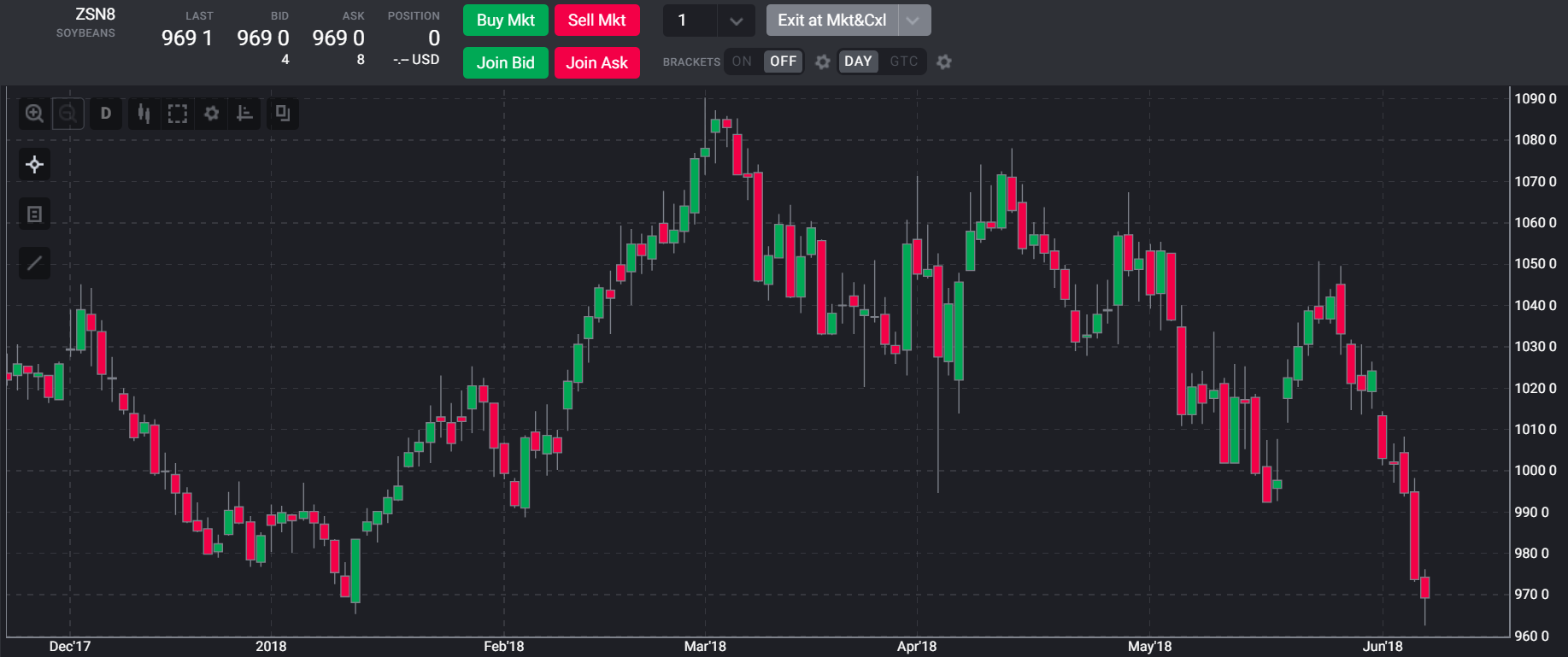 As you can see, those markets trend together, and they trend for days. When they get moving, you don't want to get in their way. That is very good for trend-following traders and can help them pile up profits in a very short period of time.
3. The Market Volume is Concentrated to Fewer Hours.
Sometimes it is easy to get drawn into a near 24-hour market. You make trades you shouldn't, only because the market is there and open. Or, for many part-time traders, you make trades because you are available — regardless of whether there are any really good opportunities.
The grains market is a little different than other CME contracts. Overnight trading opens at 7 PM CT and closes at 7:45 AM CT the following day. Then the market re-opens at 8:30 AM CT and trades until 1:20 PM CT. It's during that second session where the bulk of the volume concentrates.
So you don't have to worry about overnight trade. Just focus on the daily session. And if you have less time to dedicate, Funded Trader Risk Manager Mick Ieronimo says that you can be successful by concentrating your trade from 8:30 to 11:30 AM CT.
---
Click below to start trading Corn, Soybeans or Wheat today!