It's time to bring on those sweet, sweet quarterly and monthly acronyms. GDP. FOMC. NFP. They're all coming this week, and that means a good deal of volatility (and risk) will be in play for retail traders. If you want to take advantage, you definitely need to know what to expect.
How will U.S. GDP inform the Fed announcement released just hours later? How many Reserve Board members will voice dissent to the likely rate cut? Why the hell are equity futures rallying on a bad non-farm payrolls number?
Read on for an abridged version of the answers you might get from a very heavy economics textbook.
---
---
U.S. GDP
Date: Wednesday, October 30, 7:30 AM CT
Expected Number: 1.8%
Expected Range: 1.3% to 2.3%
Recently, we changed the rules in our Trading Combine to allow traders to carry positions through several "minor" economic releases. Nothing against these numbers—we're sure they're still very important to the agencies and think tanks releasing them—but frankly, some events just weren't moving markets anymore. Two of the numbers axed included quarterly revisions to U.S. GDP.
However, the GDP number that drops Wednesday morning is no revision. This is fresh data that will almost certainly move markets—especially given its impact on the Fed rate decision scheduled for later that afternoon.
The most recent Atlanta GDPNow forecast predicts annualized growth will come in at 1.8%, and blue chip analysts are looking for a range between 1.3% and 2.3%.
The importance of this number can not be overstated. Presumably, a result in the middle-to-lower end of the expected range will provide the Fed with the ammo it needs to further cut interest rates—even in the face of record stock prices and the lowest unemployment rate in 50 years. On the other hand, a surprise to the upside could make things—in the words of noted twentieth-century economist Elmer Fudd—very, very interesting.
If GDP comes in above 2%, it will likely decrease the probability of a rate cut later that day or in the months to come. We'll get to the specifics of this in the next section.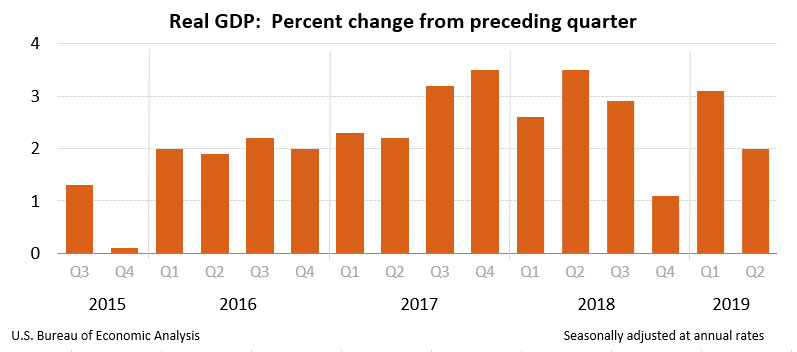 Looking back at quarterly GDP over the past few years, one can see why the current trend in GDP is troubling. Pessimism feeds more pessimism—and with the global economy slumping, a bad number Wednesday might confirm that the tax-cut sugar high in the States is over and it's time for the whole economy to take a nap.
Be sure to keep your eye on changes to the individual components of GDP. Personal consumption has pretty much kept this ship afloat for the past several quarters. Weakness here could signal that even the insatiable demand for "stuff" among American consumers is not immune to a larger downtrend in the global economy.
Federal Reserve Meeting
Date: Wednesday, October 30, 1:00 PM CT
Expected Outcome: 0.25% cut to Fed Funds Rate
Watch Out For: Changes to forward guidance, dissenting votes
Ladies and gentlemen, the main event. Equities, commodities, metals and (obviously) bonds are waiting for this number before embarking on their next big move.
According to the CME FedWatch Tool, there is somewhere between a 90% and 95% probability that the Fed cuts interest rates for a third time this year. Bottom line, it will be a major surprise if rates hold steady, since a quarter-percent cut is basically already priced into the markets.
Beyond the headline number, pay attention to any wording changes in the announcement, especially in regards to forward guidance. Judging by equity prices and bond yields, the market expects a sustained period of easing. Anything that imperils more money getting pumped into the system will be seen as economic sacrilege. Investors will rebel and the President will demand nothing less than a head on a pike. So, yes, the .25% cut seems rather likely.
More interesting than the actual rate decision will be the breakdown of votes cast by members of the Reserve Board. Last month, there were three dissenting votes: Esther George and Eric Rosengren wanted to hold rates steady, while James Bullard actually pushed for a bigger, .5% cut. You can read the full September announcement here.
If more than three Board members object to Wednesday's decision, it may fuel more uncertainty going forward. And we all know how much markets love uncertainty.
Non-Farm Payrolls
Date: Friday, November 1, 7:30 AM CT
Expected Number: +105K
Expected Range: Still trickling in...
Ah yes, for traders, there's no better way to kick off the weekend than a good Unemployment Friday. You get to trade that early number, then hit the road. Or grind it out Friday afternoon if you're a masochist.
The consensus estimate for Friday's payroll number—and keep in mind this is still 5 days out—is an increase of 105K jobs, compared to an increase of 136K in the previous month.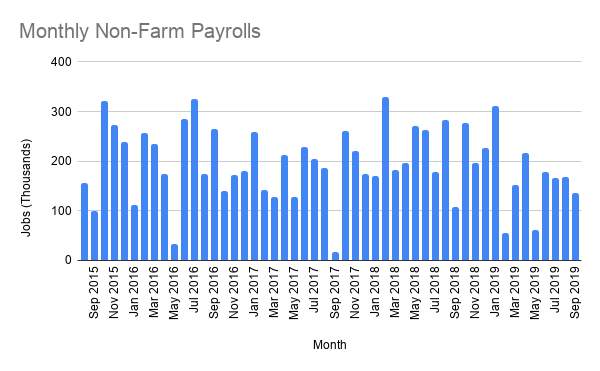 As you can see in the chart above, a 105K print represents the continuation of a downward trend that has persisted for almost a year. Which seems bad, right? But then again, with a 3.5% unemployment rate, are there really that many more jobs to add?
The U.S. needs to add roughly 100,000 jobs-per-month just to keep pace with population increases. Maybe a trend toward this level signals that the country has reached some minimum level of unemployment? Sure, but then one would think that wage growth would be a whole hell of a lot stronger. Yeah, it's growing, but definitely not in line with what we would expect given a real unemployment rate of 3.5%—a 50-year low!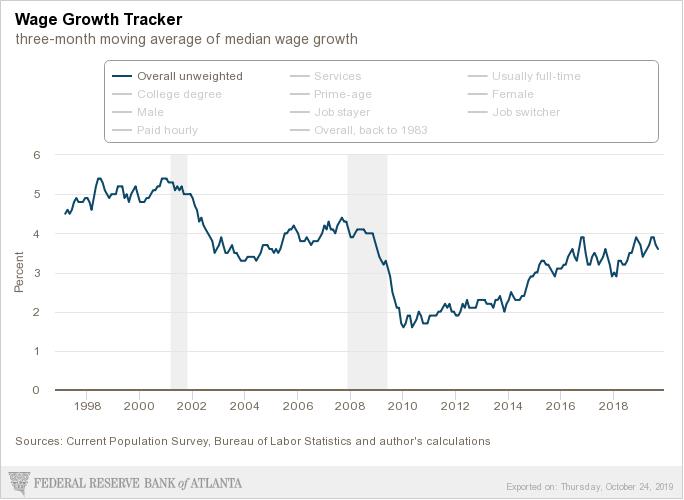 You want to know why there is so much uncertainty around monthly payroll numbers? It's because there's so much uncertainty around each of its components, and no one has all the answers.
For starters, "employment" itself is an ambiguous term in the modern gig economy (i.e. pretty much anyone can get a "job" driving for Uber etc. if they aren't a known menace to society... and even then they can occasionally). Furthermore, the ill-defined concept of "Labor Force Participation" moves a lot of people who probably should be counted as "unemployed" into what can best be described as the ¯\_(ツ)_/¯ column.
FiveThirtyEight provides a great overview of the monthly jobs number and its components if you would like to learn more. And if still you hunger for knowledge, there are literally thousands of pages of academic literature you can read on the topic.
But if you are simply trying to make money day trading futures this Friday—and not get a doctorate in economics—just familiarize yourself with the consensus payroll number, the "whisper" number, and the range.
Tread carefully if the number falls outside these estimates. Also, remember to trade the price action and don't concern yourself with what "should" happen. A good number, or bad number, could be good or bad for, say, equities. It's hard to know because bad economic data may be bad for the economy (you're welcome for this insight), but counter-intuitively a bad number may also be good for equities since this scenario increases the probability of future interest rate cuts.
Up is down. Facts are lies. That's just the way the cookie crumbles.
Anyway, as we laid out above, you're probably not an economist—you're a trader. So don't fret about the larger picture (at least in your trading account). Just go out there, manage your risk, and enjoy this volatility.
Because this week is going to be a doozy.