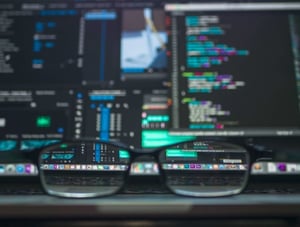 Until we figure out what's driving the U.S. Dollar, we anticipate the following three themes will dominate trading in 2018: economic growth, global central bank policies, and global geopolitical uncertainty.
Economic Growth
Things are going well in the global economy 10 years after the Great Recession. The Federal Reserve expects the U.S. economy will grow at 2.1% in 2018, down slightly from growth of 2.4% in 2017.
---
This is Part 2 of a series on the U.S. Dollar and forex markets.
To skip ahead, download TopstepFX's FREE 2018 Guide to the Forex Markets below.
---
The International Monetary Fund (IMF) is a little more optimistic on the world's largest economy. The IMF's October World Economic Outlook projected the U.S. economy would expand by 2.3% in 2018.2 The recently passed tax cuts could add as much as 0.2% to that growth rate, bringing real GDP growth to 2.5%, the estimates suggest.
This growth will eclipse many other advanced economies, including Canada (2.1%), the European Union (2.1%), the United Kingdom (1.5%), and Japan (0.7%).
Global Central Bank Policies
Central banks still have the largest impact on a currency by determining where interest rates will be. Speaking extremely generally, money will flow to those economies that offer high relative rates of return, bypassing lowyielding currencies.
In 2017, just three of the world's leading central banks raised interest rates: the Federal Reserve (three times), the Bank of Canada (twice), and the Bank of England (once). The Bank of Canada and Bank of England's last interest rate hikes in September and November, respectively, were accompanied by highs in their currencies relative to the U.S. Dollar. That's because the market took them as "dovish hikes," or hikes that would be followed by a prolonged period of equilibrium.
In fact, when the Bank of Canada met in October, it said the strength of the Canadian Dollar would slow the pace of inflation, providing it an opportunity to be more "cautious" with additional rate hikes.
Conversely, the European Central Bank (ECB) hasn't hiked interest rates a single time. And they're being very slow to remove accommodation from the market. But that hasn't caused any reluctance to buy Euros - yet.
Moving into 2018, it will be this discrepancy that drives markets. Be careful to monitor what markets have already "priced in" relative to what news is released. If it looks like any central bank is not tightening policy as fast as anticipated, the currency will likely suffer.
Global Geopolitical Uncertainty
A recent theme in global markets, including foreign exchange, has been the lack of volatility, particularly during periods that would seemingly inspire volatility. Last year was the first in three without a currency flash crash. That's a good thing. But events that should have produced volatility - and therefore presented opportunities for traders - didn't materialize.
Whether that trend continues in 2018 is unclear. The German government is still in limbo. On January 7, Chancellor Angela Merkel's conservative Christian Democratic Union of Germany and the Social Democrats started talks in an attempt to bring back the "grand coalition" and maintain the status quo that has been in place for the past four years.
But it's not all good news, even if the talks play out. This is the longest period of fragmentation for modern, post-war Germany. And it comes at a time when political uncertainty and rising populism have gripped the world.
This is also the case for Italy, which will hold elections on March 4. The populist Five Star Movement and Lega Nord have ascended in the polls at the cost of the ruling Democratic Party.
Then there's Brexit. The fallout in 2017 was not as bad as expected, helping the British Pound gain 11% on the year. The low of the year was set by Prime Minister Theresa May in a January 17 speech that stoked concerns of a "hard Brexit." Traders sold Sterling below 1.20 at the height of the panic.
The Market's worst fears never materialized. In December, the U.K. and European Union reached an agreement in principle on the U.K.'s withdrawal. In March 2018, the EU is expected to agree upon guidelines, setting up Chief Negotiator Michel Barnier's self-imposed October 2018 deadline.
Just because the broad strokes have been agreed upon doesn't mean it will be smooth sailing from here forward. There are likely to be a lot of speed bumps as the EU and U.K. work out their divorce. However, as of writing, the worst fears that sent Sterling below 1.20 appear to be behind us now. Whether they re-emerge is to be seen.
---
Want our full analysis of the forex markets, including in depth look at six major currency pairs, download TopstepFX's FREE 2018 Guide to the Forex Markets below.